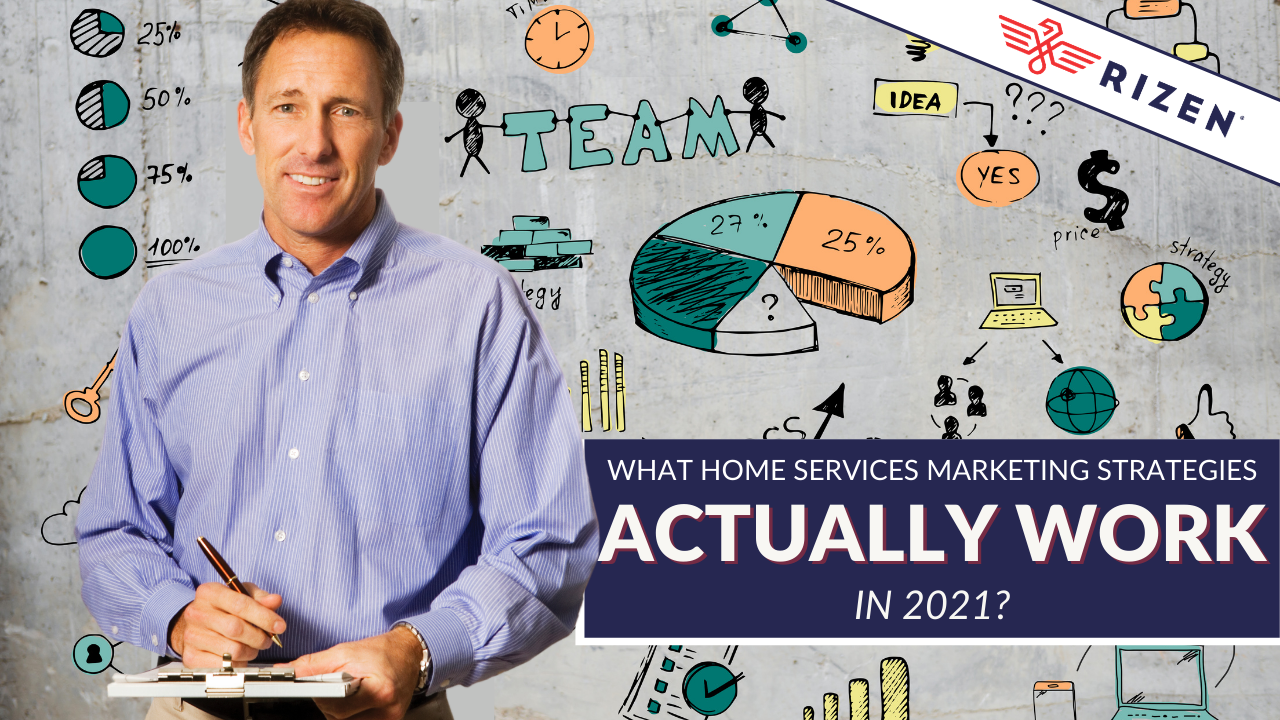 In case you haven't noticed, things have changed. The world is different. COVID concerns, emerging technology, a rapidly evolving idea of the traditional workplace have changed the way we conduct business every day.
Yet, many home services businesses still rely on the same marketing strategies they used a decade ago.
It's understandable. If it's worked in the past, it's easy to think that it will work again. But, things change. Reaching and servicing today's customers requires a modern approach to marketing, sales, and operations.
If you find yourself still relying on referrals, cold emails, billboards, or traditional marketing efforts, you're missing the chance to attract more customers and grow your business.
Why Is a Modern Marketing Strategy Important?
Today's homeowners have changed how they go about looking for products and services. Before they ever pick up the phone and call or send you an email or text, they've already done much of their research.
Attempting broad brand awareness efforts and waiting for consumers to call doesn't cut it anymore. 81% of consumers do online research before committing to a purchase.
While that can be part of your marketing strategy, you've got to meet customers where they are and provide them the information they need before they ever contact you.
Here's the secret about marketing you need to know. The home services companies that are seeing explosive growth have three things in common.
They understand the customer's buying journey

They embrace a culture of continuous communication and fast follow-up

They collect and use customer reviews and testimonials.
Want better leads? It's time to use a modern marketing strategy that works in today's cluttered consumer environment.
What Marketing Strategies Are Working for Home Services Companies in 2021?
At Rizen, we work with home services companies across industries to help grow their qualified leads and generate more revenue. That's our specialty. Here are six marketing strategies that are driving growth in 2021.
Inbound Marketing
When consumers are in the research phase, they need to find you. Inbound marketing creates engaging content that attracts those searching online for services.
Once they find you, you need to guide them through the buying journey to convert and close them using this four-step process.
Attract: 

 Create relevant content that answers consumers' questions.

Convert:

  Include powerful offers that visitors into leads with clear calls-to-action and compelling copy on landing pages.

Close:

 Nurture and convert leads into customers using targeted, automated email nurturing and social media interaction.

Delight:

 Providing an exceptional experience throughout the entire process to delight your customers.
Pay Per Click
According to the Local Search Association, more than half of all customers researching home services run a search before scheduling an appointment. Pest control, lawn care, locksmith, moving, HVAC, carpet cleaning, impact products, and roofing all see even higher search volume.
When consumers are searching, are they finding you? Inbound marketing strategies can help your search ranking organically. Pay per click (PPC) can help you show up in paid Google results.
Search Engine Optimization
Search engine optimization (SEO) is a holistic approach to your website, content, and marketing to improve your search engines' business ranks.
How important is this? The first five spots on Google get more than 70% of all clicks. Businesses showing up on the second page have a click-through rate of less than 1%.
Social Media
Like it or not, social media has become an increasingly important way to reach, engage, and convert customers. It can be frustrating to try to keep up with it all. Still, as part of an inbound marketing strategy, you need a robust system to manage social media.
This approach includes creating unique content that provides value to customers using a social media plan and a commitment to rapid response when customers do engage. Targeted paid social campaigns are also an essential part of your home services marketing strategy.
Conversion Optimization
Once you've encouraged people to check out your website, it takes a targeted conversion strategy to move them from research to closing sales. Strategically embedding trust signals, calls-to-action, testimonials, and the correct language can grow sales.
Create a seamless customer experience. Make it easy for visitors to find what they want and give them a powerful motivation to connect.
Growth-Driven Design
If your business isn't growing the way you want it, you don't keep doing the same old thing. Why would you take that approach to your marketing? 
Growth-driven design creates a framework so that your website can continuously evolve to meet customer needs. Rather than a static design, using A/B testing (multivariate testing) and user feedback, you can continually test what's working and optimize performance. When something works better, do more of it! When something isn't working, dump it quickly.
Rather than creating a static website and hoping it works or waiting years to make changes, a growth-driven design runs ongoing experiments and provides a continuous performance improvement.
Partner with a Marketing Agency Experienced in the Home Service Industry
Suppose you're in the impact product, HVAC, garage door, mold remediation, roofing, or other home services industry. In that case, you can grow more leads and build a repeatable revenue-generating engine with marketing in 2021.
Nathan Stapleton at STS Impact Windows and Doors boosted his sales by $200k to $450k in just 90 days using our methods. Mick Dapcevic at Garage Door Mechanics tripled his qualified leads in just eight months. Luis Alvarez at Alco Windows and Doors grew his monthly leads from less than 25 to more than 300 a month (and grew his revenue from $500k to $10 million).
Would you like to see results like this?
Rizen is a full-service digital marketing agency that specializes in working with home service companies. We have proven methods that work and strategies to drive customer acquisition and revenue growth.
At Rizen, we don't just build and execute a marketing plan. We embed a growth-driven design into everything you do to help you meet your overarching goal: make money.
Contact Rizen today.  Let us show you the proven strategies that will help grow your business.