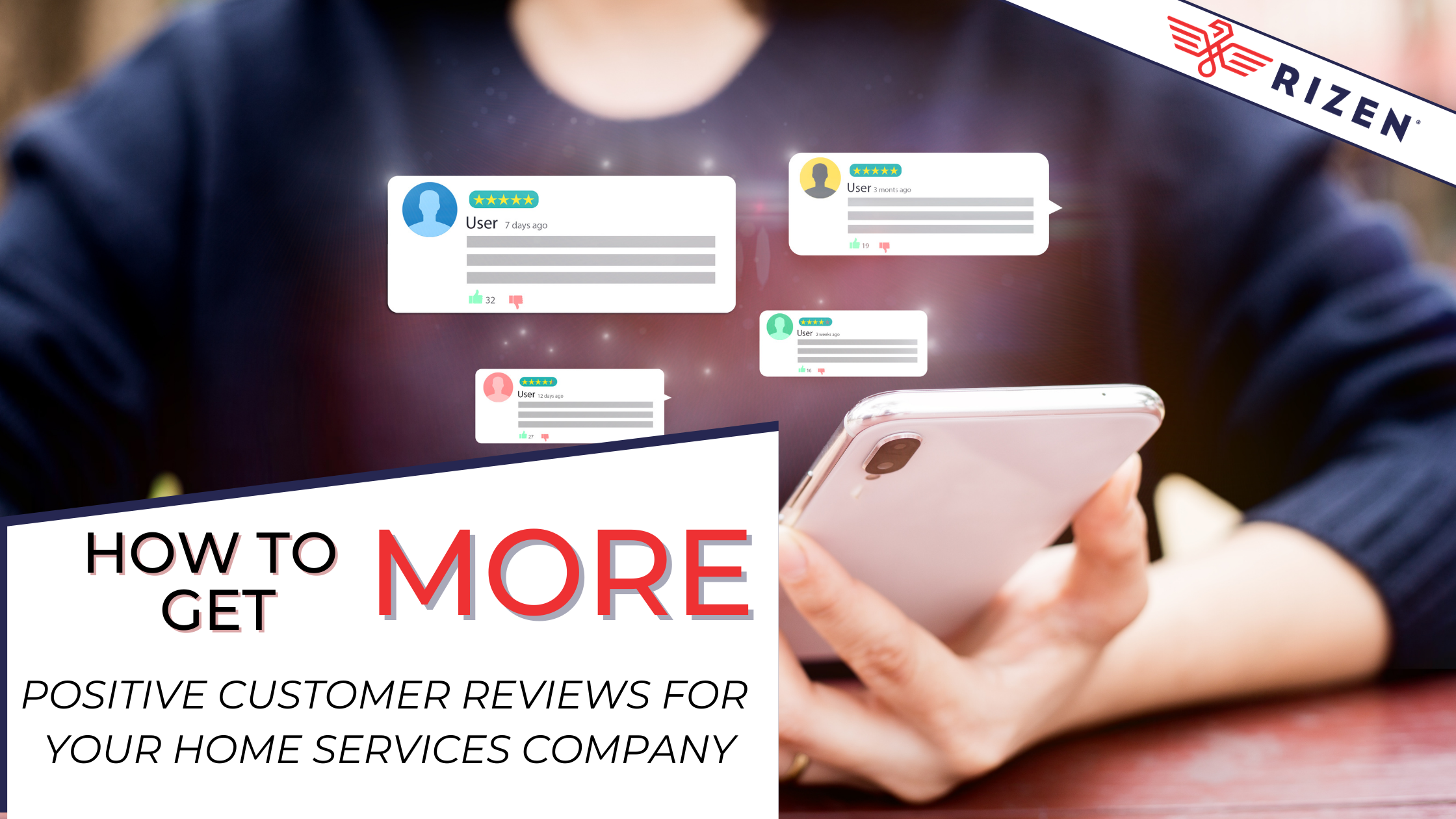 For most home service companies, such as those providing roofing, impact windows, garage doors, electrical, or plumbing services, the traditional approach to attracting new customers isn't working anymore.
Reaching and servicing today's customers requires a more modern approach to marketing, sales, and operations.
Forget relying on referrals, cold emails, billboards, and traditional advertising. That will only get you so far in today's connected consumer environment. You need a proactive inbound marketing strategy to recruit, engage, and convert prospects into customers.
One of those key strategies is managing your customer reviews online and on social media.
Why Do Great Reviews Matter?
If you were looking for someone to come to your home to do some work, you might ask a few friends what they thought about a particular company. Would it make an impression if they provided a glowing recommendation or told you to stay away?  You bet it would.
The same thing happens online except there are more voices in the mix and they may not be your friends.
Why do great reviews matter? Here are a few statistics that tell the story.
Most home services customers don't have a company already picked out when they search online, according to the Local Search Association (now known as Localogy). For example, 74% of people needing HVAC repairs, 90% of those needed electrical work, and 80% of customers looking for a roofer don't know how to contact.
90% of those customers say they were influenced by reviews.
57% of consumers say they will only business with providers with positive customer reviews with a 4-star rating or higher.
Good reviews matter.
Strong online reviews can help reduce the risk for consumers. When they see other customers have left positive feedback, it gives them more confidence in your product or service.
When people write a positive review, they are providing an independent assessment of the job you did and the customer service you provided.
Online reviews also help you with your search engine rankings. Customer reviews provide fresh content with links to your website. On Google, your star ranking on Google My Business (GMB) also makes a difference in whether your site shows up in the Google map listings.
Tips for Getting More Positive Customer Reviews for Your Home Services Company
Online reviews are one of the best ways to let the potential customer know you provide good value, customer service, or outstanding work.
Here are some of our best tips for getting more positive customers reviews for your home services company.
Tip #1: Find the Best Reviewers BEFORE Asking for Them to Leave Reviews
You don't want just any old reviews. You want positive feedback. The best way to get that is from your best customers. When you know somebody's happy with your work, that's the time to ask them to leave a review. After all, happy customers are the most likely to leave positive customer reviews.
We recommend companies send out an email whenever a project finishes with a simple survey. Then the people who take the time to fill it out and expressed a positive experience should get follow-up communications asking to leave a review.
It's not worth asking everyone because they might leave a bad review. Others will leave vague to short reviews which won't necessarily help you with future customers.
Tip #2: Make the Feedback Process Simple for Them 
The trendy topic in online circles lately is "customer experience" or CX. Providing a great customer experience online can be as important as what you do in person. That means reducing the amount of friction customers face when trying to submit a review.
In other words, make it easy for them. We recommend creating a standard email and text message that has short, clickable links to the sites you want them to leave a review. Clicking is easy. Asking them to "find us on Yelp" or other sites take work on the part of the customers and may prevent them from completing it.
Tip #3: Take time to Respond to Positive Reviews (and Negative Experiences too)
When people see that you respond to reviews, they know you're paying attention. It demonstrates that you value your customers and take their feedback seriously.
A study done by the Harvard Business Review looked at tens of thousands of reviews and found two important results:
When customers know they may get a response, they are more likely to post.
Responses also tend to lead to higher ratings overall.
When businesses in the study responded to comments — both great reviews and negative reviews— they received 12% more overall reviews. What's even better is that responding to reviews led to higher overall star ratings. A third of businesses engaging with reviews saw their rating improve by half a store or more within six months.
Tip #4: Consider Rewarding Customer Feedback 
Another effective way to attract more positive feedback is to offer discounts or special pricing on future services as a thank you for sharing their positive experience.
Be careful how you do it, however. You don't want potential customers to think that people are only leaving positive reviews because they get rewards.
Tip #5: Recency Is Important
It's not just the number of positive reviews you have that plays a role. It's also how recent the reviews are. You can have tons of great reviews, but if they are two years old, consumers will discount them. 58% of consumers said recent reviews carried as much importance as the overall star rating.
Not only do you need to collect great reviews. You also need to keep collecting them so the information does not seem dated.
Positive Reviews Matter. Now Learn How to Deal with the Negative Ones
When customers leave positive feedback, thank them for their kind words and let them know you appreciate their business.
Responding to negative reviews is a must. You need to set the record straight while maintaining a professional demeanor. When responding to a negative experience by a customer, your goal is to demonstrate to potential customers how you deal with any issue that arises. If someone wants to make it argumentative, take the discussion offline.
For more tips about how to respond to negative reviews, download our Free Guide on How to Respond to Negative Reviews, which includes examples and a simple formula that's proven to work for business owners.